Visa solutions from india's #1 visa consultancy
Applying for a visa can be a stressful prospect. With an endless train of paperwork and documentation, it can quickly become overwhelming. Chasing Beans has the knowledge, experience, and robust processes to help you navigate complex visa procedures and file your visa application with greater confidence.
Each country offers different types of visa base on the purpose of your visit. Though you can apply for a visa to most countries online. It will take some time for you to understand the process, get the required documents, and fill the application form. You must ensure that you meet the eligibility requirements and requirements specific to the country you wish to move to.
Remember there are different requirements for a student visa, a tourist visa, a work visa, etc. You must understand the specific requirements of the visa you are applying for and fill the application form and follow the other processes to get your visa.
This is where the advice of a visa counselor or a visa advisor will be valuable to help you understand the different visas available and the specific requirements for your visa. A visa counselor will help you with the application process to successfully procure your visa.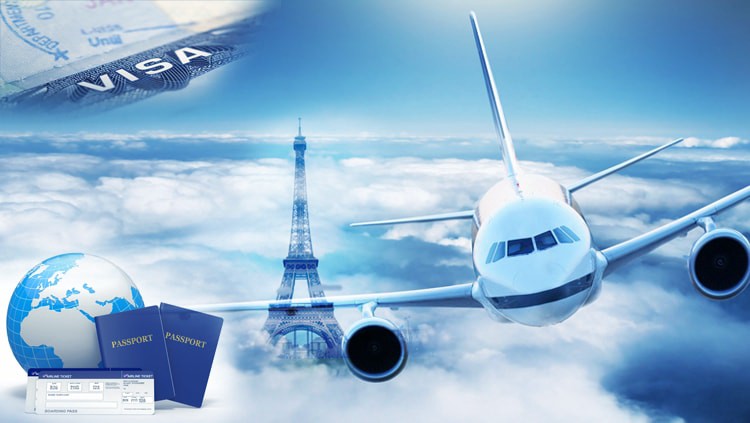 Here are the general steps you must follow in order to get a visa:
Choose your visa
Prepare your application
Attend an appointment at the country's embassy or consulate
Get a decision on your application
Following the process and getting it right can sometimes get overwhelming. A better option is to consult an immigration expert who can help you in an efficient way.
VISA Types
CBC has the knowledge, experience and robust processes to help you navigate complex visa procedures and file your visa application with greater confidence.
Read Most Frequent Questions of VISA
What are the different types of Visas?
There are different types of Visas that are available based on your requirement and purpose of travel overseas such as Student Visa, Work Visa, Investor Visa, Business Visa, Dependent Visa, and Visitor Visa, etc.
Let us look at each visa in detail:
Visitor visa: Visitor visas are non-immigrant visas that an individual must apply for if they wish to enter a country temporarily for business, tourism or for transiting through a country while on journey by air or ship.
Student visa: A student visa is issued to students enrolled at qualified educational institutions in foreign countries. Student visas are non-immigrant visas. Students who wish to pursue higher education in another country must obtain a student visa to study in that country. Most countries issue student visas for foreign students to attend school within their borders. To obtain a visa, the student must first be enrolled at a college or university in that country.
Work visa: Work visa allows you to enter a foreign country and work there for a fixed period of time. Different countries may have different procedures and eligibility requirements for work permit visas. These visas are issued either on temporary or permanent basis. A temporary work visa is valid only for a fixed period of time after which it has to be renewed if the visa holder has to extend his visa. Generally, the employer applies for a work permit visa. the employer will apply to the immigration authority of a particular country for approval of the visa.
Dependent visa: A Dependent visa is a type of Visa that permits the spouses and kids to travel to an overseas nation for the purpose of accompanying/joining the family member with a corresponding Visa.
With a dependent visa, the dependents of a lawful migrant to a country such as spouse, dependent children or parents can enter and stay in the country. Such dependents can apply for a visa to join the migrant in the country.
Investor visa: Investor visa is offered by countries to encourage people with a proven business track record and a genuine intent in developing a business overseas to invest in their country. This can be either a new business venture or buying an existing overseas business.
Australia and Canada have an Immigrant Investor Programs. The USP of such programs in these countries are that they offer the option of having an alternate residency status while continuing to manage already existing business.
The Immigrant Investor Programs seek to attract potential immigrant investors who have enough personal net worth and managerial experience. A qualifying business under this program is any business except for those that operate with the purpose of gaining interest or capital gains.
Every country that offers an investor visa has its own set of requirements and eligibility criteria.
Business visa: Government authorities in countries issue business visas to travelers who wish to conduct business activities and meetings that are not related to employment in that country. A business visa allows the holder to:
Attend meetings
Business events/conferences
Investigate business opportunities and ventures
What are the required documents for the Visa interview?
The documents required for a Visa interview will depend on the nation and type of Visa that you are applying to. The documents that are most commonly required are:
Original Passport with a minimum of 6 months of validity after arrival to the overseas nation
All expired Passports
1 photograph both hard and digital copy as per the specification
The Visa application confirmation page stamped at the VAC
A valid receipt of Visa fee payment
Printout of appointment letter for the Visa interview
Supporting documents required for a Visa interview The idea of supporting documents is to verify –
Legality
Validity
Illegal history, if any
Monetary affordability;
Intention to return to home country
Let us look at the documents required for visa interviews for important countries: United States
Application Form DS-160 Confirmation Page
Valid passport;
Previous passport(s), if any
Color photo less than six months old that meet specific requirements
Fee payment in cash
Proof of finances (bank statements)
Additional documents as required by your visa category or personal circumstances
United Kingdom:
Interview appointment confirmation
Receipt to prove payment of visa fees
Self-attested copy of the online application form
Other relevant documents based on the type of visa
Canada:
Valid passport
Documents verifying your identity
Other documents relevant to your visa application
How long does it take to get a Visa?
The Visa processing times are variable depending on the category of Visa and your location. It can take around a few weeks to some months.
For the U.S, depending on your individual visa, the processing times differ widely. A temporary, non-immigrant visa can usually be processed much quicker than a permanent visa for immigrants. Your visa should be approved within a few days whether you're visiting the United States for business or travel. Visas for immigrants, meanwhile, will take 3 to 5 weeks. In this period, you will know if your visa application is accepted or rejected.
For Canada, the application processing time is the period between the receipt of your visa application by IRCC and the final decision to grant your PR visa. The processing time varies for the different immigration programs that the country offers. So, how soon you will get your PR visa depends on the immigration program you have selected to apply for your PR visa.
The most popular immigration program is the Express Entry system which also has the fastest processing time. The average processing time for the PR visa in 2020 right from the filing of the application to getting the invitation to apply (ITA) from Canadian authorities is 6 months.
In the other popular immigration program – the Provincial Nominee Program (PNP), the process is almost like the Express Entry program. The only difference being the verification process takes a little longer, this can extend the processing time to about 12 months.
For the Quebec skilled Workers Program (QSWP), a provincial immigration program run by the Quebec province, the processing time is between 12-16 months.
The processing time of the Canadian work permit is solely dependent on the completion of your application and the office at which you have applied. We have found that processing a Canadian Work Permit can take between 1-27 weeks.
Like work permits, Canadian study permit processing time relies largely on the country of residence of the applicant. A Canadian research permit can usually be processed for between 1-16 weeks.
For Australia, the PR visa takes about 12 to 18 months on average to be processed.
To ensure that your Australian PR visa application is processed on time do not submit an incomplete application. For the smooth processing of your application, make sure you meet the key requirements of the visa application process.
The processing time for other major visa categories are as under:
| Visa subclass | Description | 75% of applications processed in | 90% of applications processed in |
| --- | --- | --- | --- |
| 417 | Working Holiday visa | 14 days | 34 days |
| 457 | Temporary Work (Skilled) visa | 86 days | 6 months |
| 189 | Skilled Independent visa | 4 months | 6 months |
| 190 | Skilled Nominated visa | 4 months | 7 months |
| 489 | Skilled – Regional (Provisional) visa (State/Territory Nominated visa classes) | 5 months | 7 months |
| 186 | Employer Nomination Scheme visa | 8 months | 9 months |
For the UK, you will hear the decision on your visa application within 3 weeks. This applies to most of the visa categories such as tourist, student or work visa.
How do I apply for a Visa?
Below are the general guidelines for a Visa application:
Identify the type of Visa that you require
Identify the authorized place for Visa application (Embassy/Consulate)
Find out the most appropriate time for filing the application
Book an appointment for the Visa interview
Fill the Visa application form
Collate the necessary documents
Attend the interview for the Visa
Pay the required Visa fee
Wait for the decision on your Visa application
Here is the process for certain popular countries
USA
Check if you need a visa
Choose the type of US visa that you're going to apply for.
Fill in the application form DS-160 for a non-immigrant visa.
Pay the fee for visa application.
Fix the date and time for your visa interview.
Compile the document file
Participate in the visa interview.
Wait for the processing time
UK
Find out if there's a UK visa you need.
Choose the correct form of UK visa.
Complete the application form online.
For a UK visa application, collect the necessary documents.
Schedule an appointment for a UK visa.
Depending on availability, the visa application process includes obtaining an appointment from the consulate. On the day of the appointment, all the original documents for submission and for biometrics have to be submitted to the applicant.
Canada
Find out if you're eligible for a visa from Canada.
Create your online account.
Compile the document file.
Pay the required fees.
Wait for your Canadian visa to be approved.
Send your passport and your fees for processing.
Australia
Choose a visa subclass that is ideal for your purpose and download the appropriate visa application form.
Submit the supporting documents that may be needed for your visa application.
Organize the visa fee payment
A mandatory prerequisite is the prior online appointment for submission of application
What exactly is meant by 'visa'?
By the term 'visa' is meant an entry permit for a short and temporary visit that must not be more than 90 days in duration.
Not Found Your Answer?
Contact us via the contact form below your idea. We are here to answer any question.